Hands on: Moto G6 Play review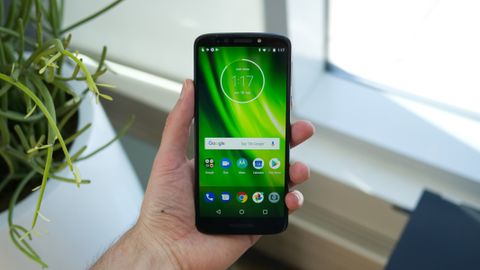 OUR EARLY VERDICT
Despite being the cheapest G6 phone, the G6 Play brings a lot to the table, including an impressive design, up-to-date Oreo software and a big battery.
FOR
Big battery
Stellar design
Works on all carriers
AGAINST
Fingerprint magnet
Specs mostly unchanged from Moto G5
The Moto G6 Play is the company's latest budget phone that's laser-focused on offering good performance without breaking the bank.
It's the successor of the Moto G4 Play – Moto skipped the Play variant last generation – and it's back with a whole new look. It has shed its plastic build of old for an all-glass design complete with high-end features like the latest Android Oreo software, a fingerprint sensor, long-lasting battery life and an 18:9 aspect ratio display.
As the middle-of-the-road option in Motorola's new G6 lineup in terms of both performance and price, it seems like the $199 (£169, about AU$255) G6 Play stacks up nicely, if slightly behind, in areas against other affordable contenders, like the Nokia 6 (2018), Honor 7X.
We'll reserve judgment until we receive a unit for review, but we've gathered more than enough first-hand impressions to let you know that if money's low, this is certainly one to look out for.
Design
Forget what you know about design in the low-end phones market. While sorting between cheap and expensive devices used to be a simple task, ones like the Moto G6 Play are almost indiscernible from models that cost four to five times more.
That impressive achievement is helped greatly by its glass and metal design. In the hand, this Play variant feels robust and its build materials flow seamlessly between each other. Like the Moto G6, this is a bonafide fingerprint magnet, but during our first impression, it was easy enough to rub them away to bring this budget phone back to looking good.
Let's start with the screen. This phone features a 5.7-inch, 720p+ IPS LCD display that, like many phones released, has stretched to an 18:9 aspect ratio to give it a high-end, cinematic look. During initial impressions, viewing angles aren't the best and direct sunlight can work against this phone, but we'd like to test this more. Also, 720p might sound kind of miserable in 2018, but it's really not too bad – or I've been going slightly blind.
Moto gets kudos for its notched power button, which sits along the G6 Play's right side next to the volume rocker above it. Around the phone, you'll encounter an 8MP selfie camera near the ear speaker, a trusty 3.5mm headphone jack on its top, and lastly, the micro USB charging port occupies its bottom.
Around back is where Moto shows off some more with its fingerprint and camera sensors. The fingerprint sensor is embedded slightly deeper within the phone than we're used to seeing to add some more ergonomic quality. Most phones try to make the break as seamless as possible, but it seems like Moto wants your finger to have a place to rest while chatting over the phone with a friend or family member. Lastly, its camera bump only juts out from the body by the odd millimeter and features a single 13MP lens with f/2.0 aperture.
Performance
The Play variant is never pinned as the performance powerhouse, and it's no exception in the G6 family. Running on the same Snapdragon 430 chipset as the Moto G5, the G6 Play still feels relatively snappy, perhaps aided by launching with Android Oreo, and the boost in RAM to 3GB in all regions over 2GB.
Should you want to go on a movie or game downloading spree, you should know that this phone comes with 32GB of storage, but it can be expanded by purchasing a microSD card, which you may already have.
If you slot yourself in the quantity over quality bunch when it comes to phone performance, the G6 Play seems to be a perfect fit, as it has a large 4,000mAh battery to keep things going.
When it comes to its camera performance, we won't be able to place judgment until our final review. But it does seem like Moto has been paying some good attention to the optics here, as well as across its new phone lineup. Along with the battery boost, the camera is another place that has gotten a lot of love over past phones.
The changes aren't necessarily in the hardware, which seems unchanged over the G5, but the software has been retooled to make it more modernized. Moto has also looped in unlimited storage on Google Photos, its native photo gallery app, for buyers of this phone, so you can store any and all photos in the cloud, should you desire.
Early verdict
The decision between the Moto G6, Moto G6 Plus and Moto G6 Play is harder than ever – a little easier in the US, as the larger G6 isn't available. Moto has made its middle-of-the-pack budget phone even more appealing, both to those strapped of cash and others who are just looking for a cheap, comprehensive package that works on every carrier out there.
It's tough to complain with what's being put forward by Moto here for its $199 price, though competition is tougher than ever. Whether the G6 Play can stand up to its when it releases in May is something we won't know until our final review, so stay tuned for that.